Legal Services NYC Staff Walks Out in Protest
April 25, 2013, New York, NY — Some 200 unionized employees of Legal Services NYC (LSNYC) this week participated in a half-day strike to demonstrate solidarity in the face of draconian contract changes proposed by their employer.
Members of the Legal Services Staff Association (LSSA) have been presented with a list of drastic giveback demands that resemble — and in some ways surpass — proposals that resulted in the Con Ed and Verizon strikes. LSNYC and its board, led by millionaires Joseph Genova (of Milbank, Tweed, Hadley and McCloy LLP) and Michael Young (of JAMS), are demanding a three year contract with no inflation-based cost of living adjustments and a giveback of two years of seniority from every employee for purposes of placement on the salary scale. They seek to cut healthcare coverage in many respects, including the multiplication of deductibles and out of pocket maximums up to figures of tens of thousands of dollars per year. LSNYC intends to reduce contributions to employees' 403b plan (the 401k for nonprofits) by nearly half, denying employees a meaningful ability to plan for their futures since LSNYC has no pension plan. The employer further wants to reduce sick leave and annual leave.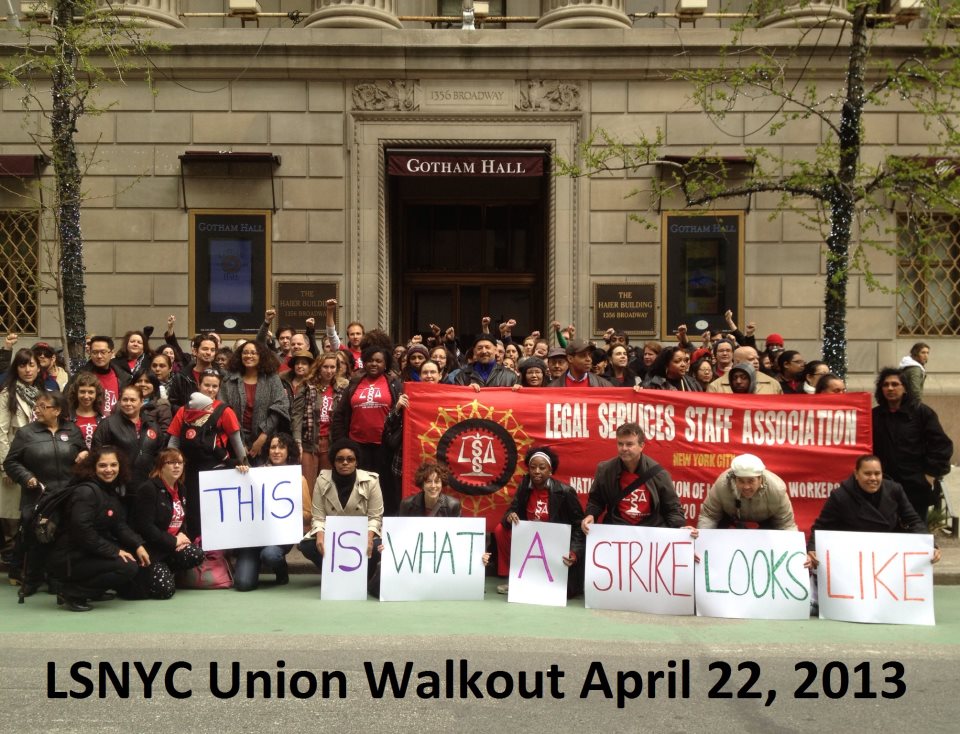 Meanwhile, LSNYC has refused to address certain issues during months of bargaining, including a management-to-staff ratio far in excess of the Legal Aid Society, such that only about half of LSNYC's budget pays for front-line personnel.
LSSA is a "wall-to-wall" union representing secretaries, paralegals, receptionists, process servers, social workers, attorneys and other non-management employees. Its members serve low-income families and the elderly of every New York City borough in civil legal matters including housing, domestic violence, public benefits, immigration, education, family, community economic development, HIV/AIDS, and mental health. LSSA is dedicated to providing high quality community legal services by ensuring its members can pursue careers through a fair labor contract and a dignified work environment.
"The reality is that it will be difficult to support my two children with the demands that LSNYC has made," said Melissa Roman, an intake officer in LSNYC's Queens-Long Island City office. "After 5 years on the job, it is sad that LSNYC management is leaving little choice for committed long-term employees with families."
LSSA members will vote on a contract offer in three weeks, on May 15th. If the offer is rejected, members will go out on strike and thousands of low-income New York City residents will lose immediate access to critical civil legal services. LSSA members sincerely hope this scenario does not occur. LSNYC employees and their families need a contract that maintains adequate healthcare, provides financial security, and respects the quality legal work performed daily by its staff. To that end, in the hope that an agreement can be reached, LSSA will continue to bargain in good faith with LSNYC to seek a contract that meets these vital standards.