| | | |
| --- | --- | --- |
| Welcome | | You are not currently logged in. |
The Union for Advocates
The National Organization of Legal Services Workers (NOLSW), UAW Local 2320, AFL-CIO is the union representing the majority of those who work in federally-funded legal services programs across the USA. We also represent workers in other types of law offices and in various human services programs.
| | | |
| --- | --- | --- |
| | | |
| | | |
| | | |
A secret ballot for the election of the contested office of Southwest Regional Vice President is being conducted by mail. Ballots for this election have been mailed along with this notice on October 11, 2013. Your ballot will allow you to vote for Regional Southwest Vice President if you are located in the Southwest Region. Any eligible member who does not receive an appropriate ballot at home by October 18, 2013 or who spoils a ballot may obtain a new ballot by contacting Diane Lanigan, for the Election Committee, at 1-800-UAW 2320 or dglanigan@nolsw.org. If you request and return another ballot, only the replacement ballot will be counted.
Instructions For Mail Ballot Voting
Please read the following instructions carefully before marking and mailing your ballot:
Mark an "X" in the box next to the name of the candidates of your choice. Do not place your name, initials, or any other identifying information on the ballot. Ballots containing any identifiable information will be voided.

Place your marked ballot in the small envelope labeled "Secret Ballot Envelope' and seal it. Do not write on this envelope. You must use the "Secret Ballot Envelope" to insure that ballot secrecy is maintained. Failure to use the "Secret Ballot" envelope will result in your ballot being voided when the ballots are counted. If your ballot package does not contain a "Secret Ballot Envelope", you may obtain one by contacting Diane Lanigan, for the Election Committee, at 1-800-UAW 2320 or dglanigan@nolsw.org.

Insert the sealed "Secret Ballot Envelope" containing the marked ballot into the return envelope pre-addressed to the Local Union 2320 Election Committee and seal it. PRINT your name and address in the return space on the return ballot envelope.

Your name on the return ballot envelope will identify you as an eligible Voter. The number in the lower left corner of the return ballot envelope will be used by the Election Committee for sorting ballots and determining voter eligibility at the ballot count. Your vote will remain secret because the Secret Ballot Envelope containing your marked ballot will be separated from the return envelope and randomly mixed with other Secret Ballot Envelopes before it is opened and the ballots counted.

Ballot secrecy can only be preserved if you personally mark and mail your ballot. Do not allow anyone else to mark or handle your ballot. Do not give your ballot to anyone else for mailing, and do not hand-deliver your ballot.
IMPORTANT: Mail your ballot in sufficient time for it to be received (not postmarked) by US Mail at the designated address by midnight November 7, 2013.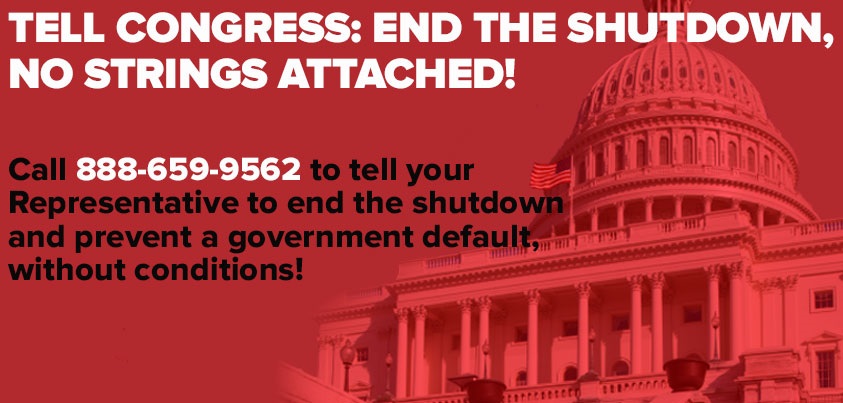 News you've probably been seeing about meetings between the President and House members underscore how important it is that House members hear from constituents, calling on them to vote for continued government funding and for authority to borrow - with no strings attached. Please use the toll-free number below to call your Rep (or make the call any way you prefer! - but just call!). And please forward this alert to everyone you know.
Call your Representative: Tell him/her to end the shutdown and stop an economic meltdown
Call toll-free: 1-888-659-9562* Thursday and Friday, October 10 - 11
Suggested message when you call: As your constituent, I want you to act NOW to end the government shutdown and prevent the economic catastrophe of a government default, with no strings attached. Please vote to restore funding for all of the services that families count on and to protect Social Security, Medicare, Medicaid, and food stamps.
Please forward this widely!

Why your call is so important:
The House leaders have been trying to divide and placate public concerns by passing a dozen bills that would fund popular programs. Representatives need to hear from constituents that this piecemeal approach is unacceptable. We need all of government working. A simple vote on a short-term spending bill with NO riders or conditions will do that. Show your Rep you want a real solution, not a PR offensive.

We are about 10 days away from catastrophe: the federal government prevented from paying its bills and debts. The Treasury Department and respected economists call that the road to economic catastrophe and deep, dark recession. So far, the government shutdown has not stopped payment of Social Security checks or Medicaid/Medicare/food stamp benefits. But if the federal government does not have enough money to pay its bills, no cuts are exempt. Your Rep has to hear how strongly you feel that default MUST be prevented - NOW, with no conditions.
*Thanks to the American Federation of State, County, and Municipal Employees (AFSCME) fors making this toll-free number available!